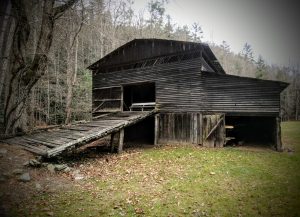 Sean Perry and his crew will partner for the second time with Great Smoky Mountains National Park and the Friends of the Smokies on a renovation project in Cataloochee in the North Carolina section of the park. The focus of this year's project is restoring some key elements of the historic Palmer Barn for structural integrity, visitor safety, and long-term preservation. The Hands of Sean Perry will assemble at the site on April 30, camping on site through May 4.
Perry's love for Cataloochee runs deep. He's spent many outings and overnight trips exploring its trails and sites, developing a deep appreciation for its cultural and natural assets. Last year's initial project at Cook Cabin was the beginning of what Perry sees as an ongoing effort to use his team's skills and labor to make a material difference in the preservation of more historic structures in Cataloochee.
The Hands of Sean Perry Co. will be donating the labor costs of his team; construction materials are being supplied by the Park and Friends of the Smokies.
Palmer Barn History:  The circa 1902 three-story Palmer Barn sits near the beloved Palmer House, and together they are one of the park's most important preserved homesteads. Great Smoky Mountains National Park sees over 11 million visitors a year, and the Palmer property is one of the most frequently visited locations in the Big Cataloochee area of the park. The Palmer home place is treasured by park visitors, many of whom who enjoy exploring the massive barn, walking back in time as they enter the barn's second level by way of a unique, 30-foot long, locust timber bridge.
Thank you food and beverage supporters!