A good group of people
Our staff understands that engaging in major construction and renovation projects is a highly personal process for our clients. Sharing your personal or business space with a construction team can be an intense experience, so we go above and beyond to ensure our relationship with the client and their space is a positive one. From being considerate and aware of your family or company staff, to maintaining high standards of job site cleanliness, The Hands of Sean Perry team is committed to making your project the positive experience you expect and deserve, all while delivering high-quality craftsmanship. It is at the core of our company values to provide an exceptional product and experience.
Our clients' positive reviews reflect the trust and confidence The Hands of Sean Perry staff have built, receiving Remodeling magazine's Big50 Award and GuildQuality's Guildmaster with Distinction Award in recognition of excellence in craftsmanship and commitment to best practices in the construction industry. See all awards.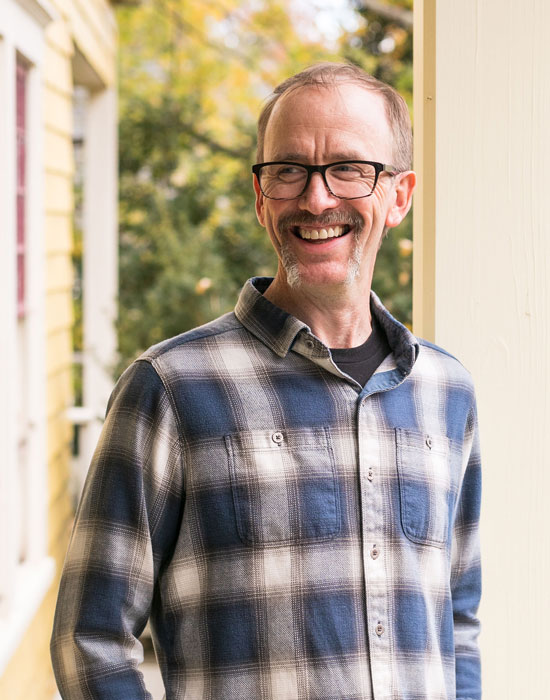 Sean Perry
Owner
Sean realized early in life that he loves and appreciates the craftsmanship of artisans past, so it is no surprise that restoring and renovating historic structures turned into his life's work. He first developed his talents at a fine furniture restoration company, which led to his first business, Saddle Hill Furniture Restoration — named after a site on his grandfather's dairy farm in East Tennessee. When not in the office or on-site at a project, Sean enjoys spending time with his wife and two daughters and digging into the history and trails of Western North Carolina.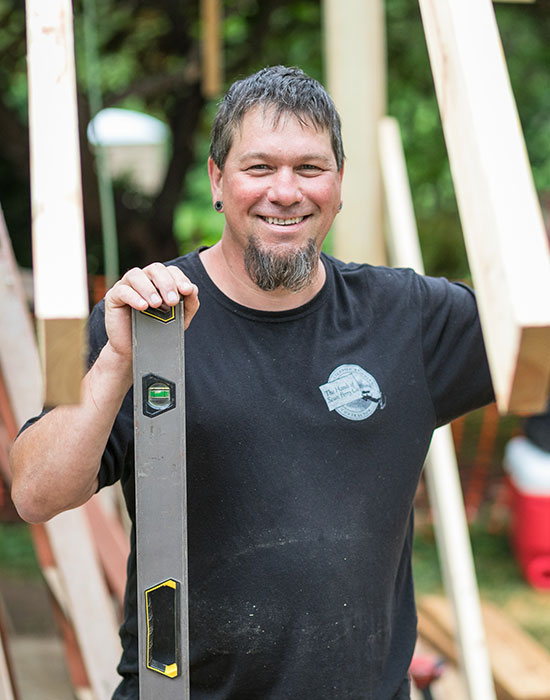 Zach Boye
Carpenter
Zach is passionate about woodworking and crafting with his hands, and he appreciates the professionalism and high quality of work that are standard at The Hands of Sean Perry Co. With more than 30 years of experience, his proficiency and enthusiasm are demonstrated in the fine work he contributes to each renovation. A Nebraska native who came to Asheville after eight years in Portland, Oregon, Zach enjoys birdwatching, fun socks, cooking with his wife, Jansen, and spending quality time with their Great Dane, Cora.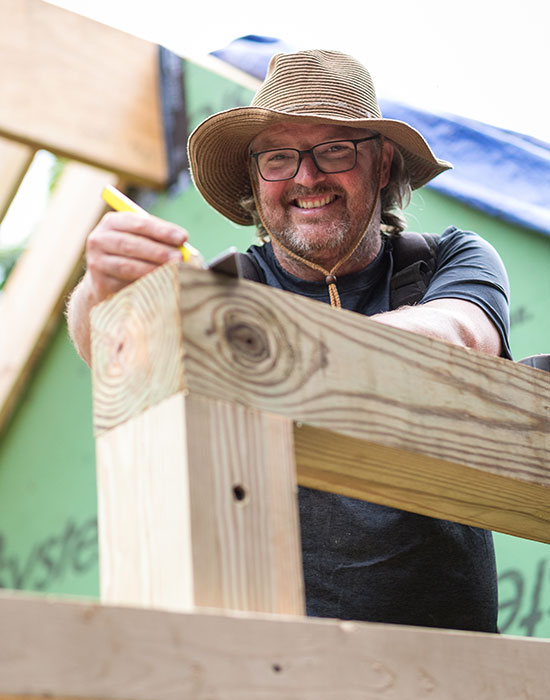 Jackey Bradbury
Carpenter
Jackey has been with The Hands of Sean Perry Co. since 2020, bringing 20 years' experience in grading, excavation, and concrete work to the team. He has a strong work ethic and is the go-to guy on concrete demolition. He is respected by his peers and always willing to tackle a challenge. In his off time, Jackey enjoys being outdoors, campfires, and listening to good music.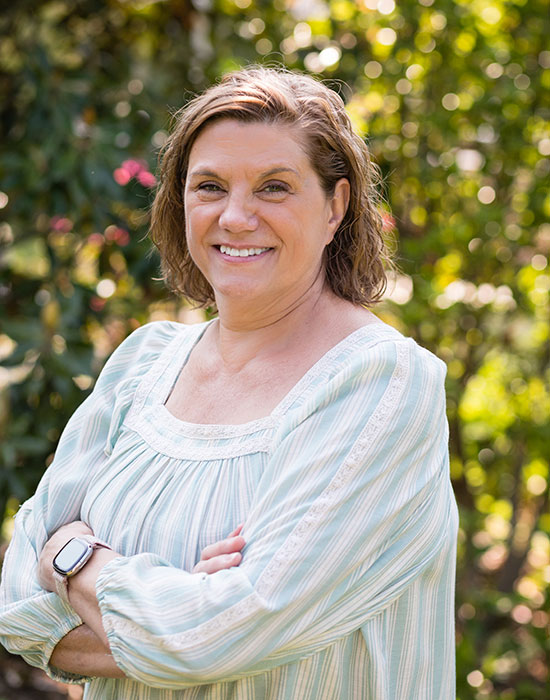 Pat Clements
Office Manager
Pat grew up in the mountains of upstate New York in a construction family, where she learned to know and appreciate quality craftsmanship and woodworking artistry — so it's no wonder she gravitated to the mountains of Western North Carolina and to The Hands of Sean Perry Co. Her career in administrative support and management has been spent in higher education, early education nonprofits, and engineering, bringing a diverse set of skills to her position keeping the company and team organized. In her spare time, Pat enjoys quilting, reading, solving jigsaw puzzles and exploring the beauty that is WNC with her husband, Paul, and furbabies, Riley and Tilly.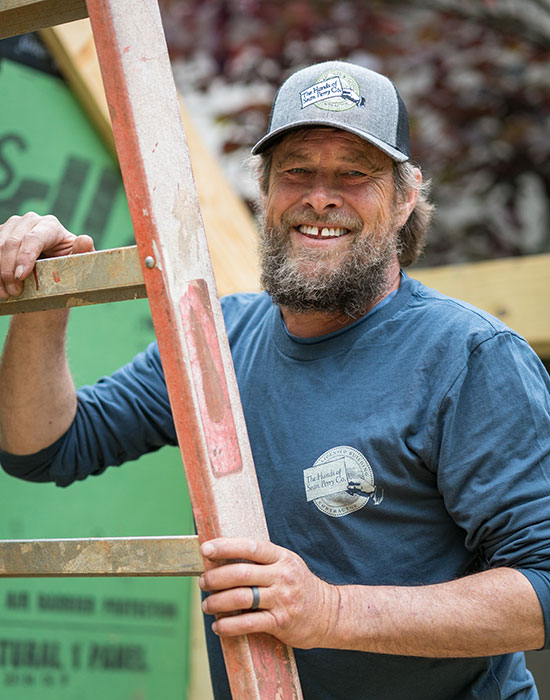 Sterling Crandall
Carpenter
Sterling's artistic background has always coincided with carpentry. Both a sculptor and glass artist, he received a bachelor's degree in sculpture from Virginia Commonwealth University and a master's degree in spatial arts from San José State University. Now a carpenter with The Hands of Sean Perry Co., he feels the merging of art with the form and function of fine carpentry go hand in hand, and he enjoys working for a company that honors craftsmanship and artisans as an integral part of its mission. Sterling believes working with a crew of likeminded professionals makes for a cohesive team. Outside of work, he enjoys music, surfing, and farming — and he is grateful for time spent with his wife, Carla, and dog, Harlow.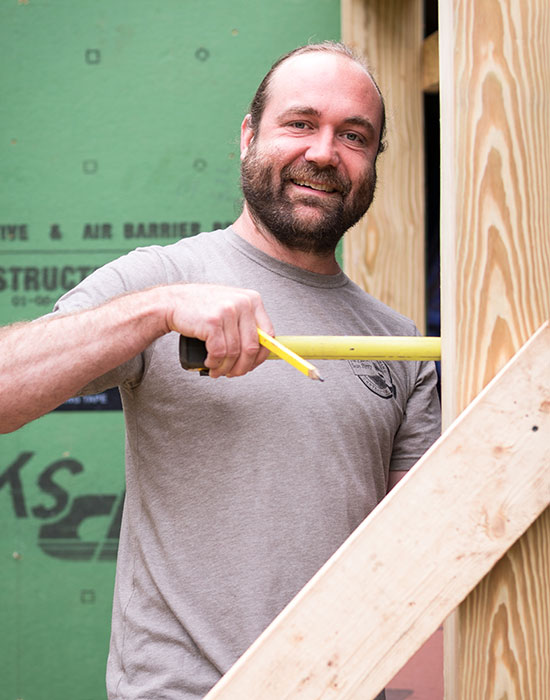 Matt Maggioni
Carpenter
The newest team member at The Hands of Sean Perry Co., Matt has a multifacted background as both an artist/musician and a prosthetist/orthotist. His career as a carpenter started while building sets for television and advertising, and he loves the hands-on problem-solving of renovation work. In his free time, he enjoys hiking, biking, playing music and relaxing with friends and family.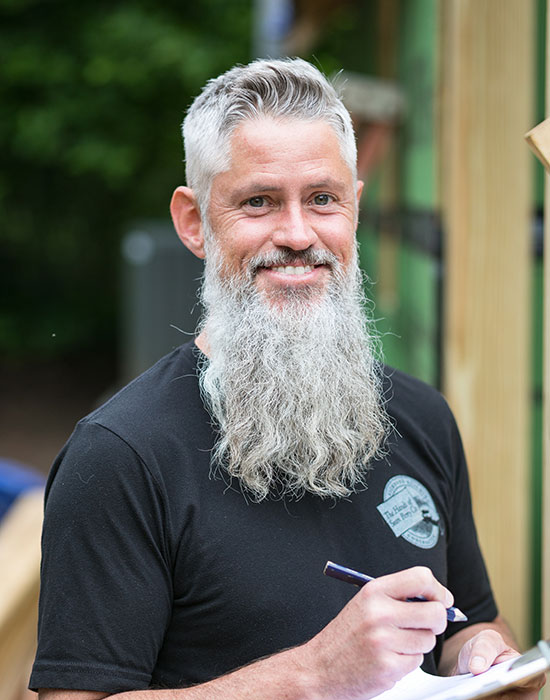 Rob Moody
Designer & Estimator
Rob grew up in the same historic home as his grandfather: a 1907 Queen Anne, shingle-style beauty in downtown Waynesville — instilling in him a deep-seated interest in renovation, carpentry, and home building from the start. He brings those passions to his role, plus two decades' experience as a green builder, renovating and building homes of high-quality, durable construction and thoughtful design. Rob has been engaged at the national level as a consultant for organizations such as the U.S. Green Building Council and the Clinton Foundation, and he has authored articles for Fine Homebuilding, This Old House, and Green Building Advisor. He is a dedicated husband, father to two young daughters, and a humble student of saxophone, gardening and BMX. He and his family live in historic Montford.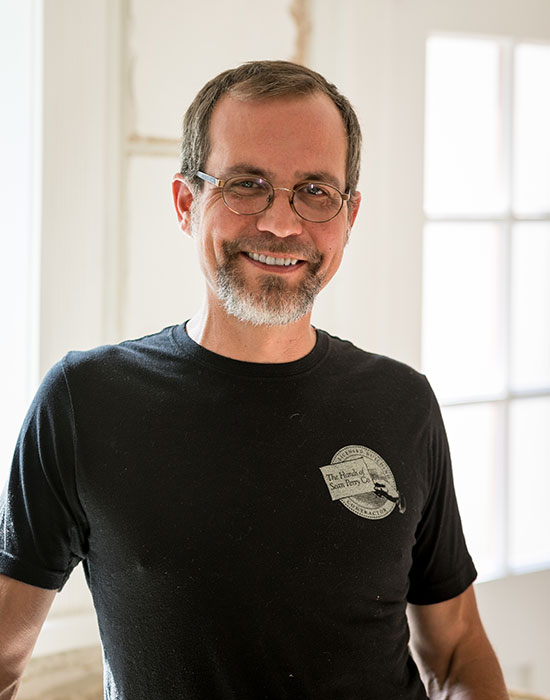 Jake Moran
Project Manager | Senior Lead Carpenter
Involved in the renovations of many iconic Asheville places — including Zambra, Doc Chey's, the North Asheville Library, and the restoration of the Thomas Wolfe Memorial — Jake's construction experience is woven into the city's fabric. Having owned his own company before joining The Hands of Sean Perry Co., Jake loves that his current role allows him to focus solely on his craft while completing the project at hand. Aside from his work, Jake enjoys gardening, making music, traveling and spending time with his wife and two sons.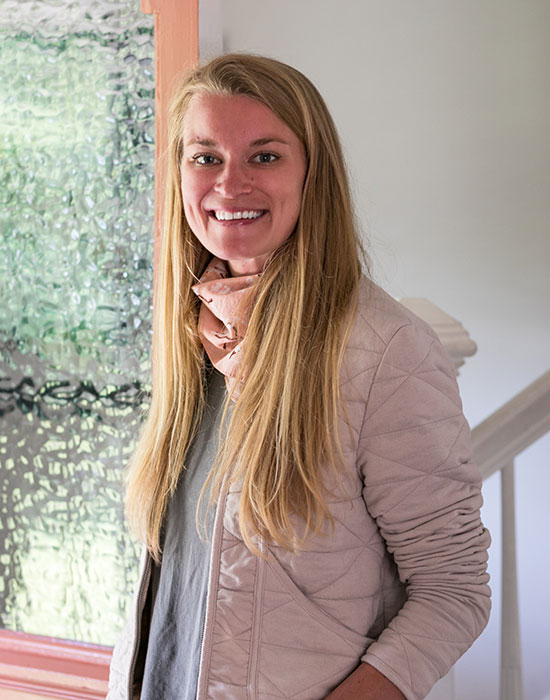 Emily Sacks
Administrative Assistant
Emily's childhood memories are full of sawdust days, whether from spending time in her mother's fine furniture shop or from the numerous additions her parents built onto their home. Having worked mostly in hospitality and property management, her passion for sustainable living and her love of building and restoring — engraved into her through her parents — is what brought her to The Hands of Sean Perry Co. Emily stays active with the behind-the-scenes office flow. When she's not working, you can find her hiking, traveling, visiting family and friends, or working on her new homestead in Waynesville.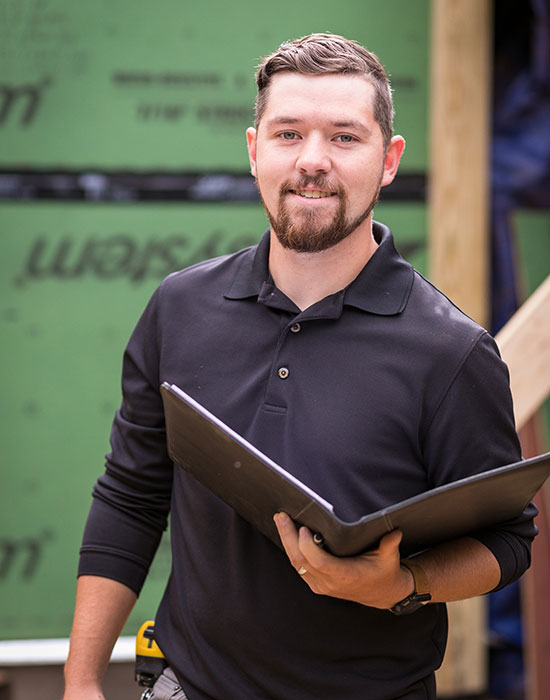 Scott Walle
Estimator
Scott is a curious learner who grew up taking everything apart and putting it back together. As a third-generation craftsman, he has found himself to be handy in many different fields, previously working at a winery and a television station. As a builder, Scott learned most of what he knows from his father, who has helped preserve and restore many buildings at Cornell University. This helped Scott gain an interest in historical buildings from a young age. Outside of work, he enjoys bringing his dogs to watch his wife, Jess, play intramural soccer. They look forward to raising a family in Western North Carolina.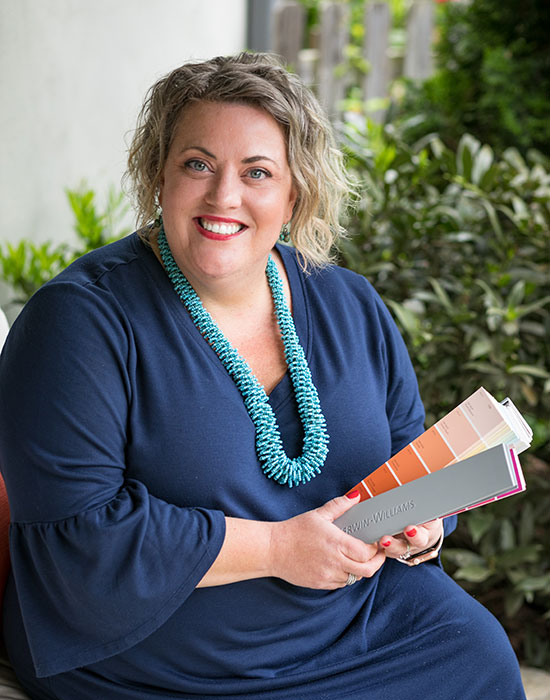 Angela Whelchel
Director of Project Development
A Hendersonville native, Angela has always called the mountains of Western North Carolina home. Earning a degree in interior design with a concentration in historic preservation from Eastern Carolina University, she spent nearly 12 years in the luxury plumbing industry, concentrating on kitchen and bath design. Angela truly loves taking a client's vision and, through thoughtful space-planning, problem-solving and collaboration with the team of craftsmen at The Hands of Sean Perry Co., turning those dreams into realities. In her free time, Angela enjoys traveling, exploring historic spaces, cooking, sewing and spending time with her husband and young daughter.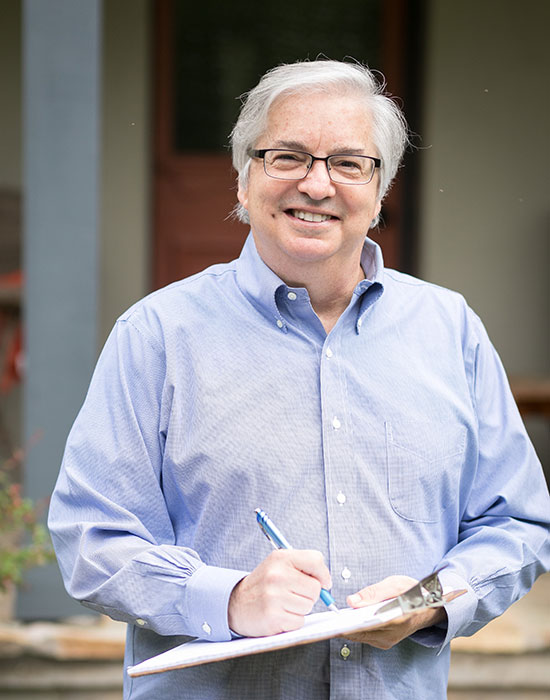 Ken Wolfe
Business Manager
Ken is passionate about finding innovative new ways to make running a business easier so that his teammates can focus on what they do best: Turning a customer's dreams into reality. His favorite moments are reading our customers' comments when they see how The Hands of Sean Perry has transformed their homes. He appreciates the team's care and consideration for creating a customer experience "Built in Trust" with the very highest level of craftsmanship. Outside of work, Ken's other passion is gardening and appreciating the majesty of the old oak trees that shade his property, on which he feels blessed to live.
Remodeling your home? Call: 828.258.7272