What our clients say
Satisfied clients, excited about their new spaces, are our motivation and desired end result. Positive reviews from our clients and subsequent referrals to their families and friends reflect the hard work, professionalism and dedication that our team puts in to each and every project.
This is a dream team. As a designer, I have high expectations and The Hands of Sean Perry more than exceeded my expectations. They listened. They collaborated with me to ensure that my project was built as designed. They worked intelligently, precisely, and steadily, maintaining excellent communication and good humor. The project, a kitchen renovation and a utility addition for my home, was beautifully executed. It was a great pleasure to work with this exceptionally skilled and congenial team. I highly recommend this company.
I was concerned how I would live without a kitchen [during remodeling]. They helped me see how the house would look and did a fantastic job. They helped us move stuff around during installation.  They were excellent and went above and beyond.

They were professional and organized. They were a fun group of people and the project went smoothly. While they were on site, Zach, Sterling, and Jake became part of our family. Zach went above and beyond expectations. I consider them friends now and will use them again in the future.
"Much of my love of my home is due to the work of Sean and his team! I was and continue to be so impressed with their craftsmanship. They were so easy to work with, always warm, responsive, and professional. Their communication and quality and timeliness of their work were exceptional. I highly recommend them and trust them and their work!"
"After renovating multiple spaces ourselves, we decided we needed help on our most recent project, our hundred year old family home. We saw The Hands of Sean Perry working on a neighbors house and were really impressed how they cared for the work site as well as the quality of work they did. After having a few conversations with Sean and Rob, we knew we wanted to work with them and their team. We waited for a while to start our project as they are in high demand, but boy was it worth it. From the beginning stages where Rob did a deep dive into every nook and cranny of our house, until receiving our Certificate of Occupancy we were impressed with their care, quality of work, and depth of character. They understood our house and really listened to our vision. Their communication was clear, prompt, and respectful. We felt heard through every step of the process. These are wonderful, kind, honest, skilled human beings who do marvelous work, and if you have the ability to work with them, we highly recommend it. We look forward to working with them in the future."
"We are very happy with the work The Hands of Sean Perry did on our home. What stands out for us the most, now that we are about 2 years post renovation, is the quality of their work. It is really lovely to live in a space where such care was taken in the details. Also, communication was easy, they stand by their work, and they truly are a bunch of smart, kind and honest people. We would certainly hire them again."
"Thanks so much! We are reminded every day of all that your team has done (and continues to do) to make our home fitted for 'aging in place.'"
"I could write a book about how pleased we were during our renovation, but I will settle by saying that as long as the company is in business, we will be faithful clients."
"We were thoroughly impressed with the high standards of the company's craftsmanship, creativity and professionalism. They took extra care on the front end to make sure our plan as clear and surprise-free as possible. When we wanted to add projects along the way, they were flexible. It was clear to us through the whole process that the company is focused on developing, streamlining and improving all aspects of their work, from billing and estimating procedures to on-site management."
"My wife and I had an excellent experience working with the Hands of Sean Perry Co. in remodeling our 1920s home. We have been extremely satisfied with the quality of work and attention to detail provided by Sean and his team. We would give them our highest recommendation and not hesitate to use them again in the future."
"We were very pleased with the professionalism, timely project execution, and thoroughness and attention to detail of the Sean Perry team. They were great to work with, had a great attitude, and we are extremely satisfied with the end result of the project. They have been absolutely excellent and live up to their reputation."
"From start to finish our experience with the Hands of Sean Perry was absolutely great! They listened to our dreams and ideas, then helped us to focus our plan. They gave us a fixed price contract for the project that was within our budget. For all change orders we received an estimate before we proceeded."
"I continue to be impressed by the thorough research, craftsmanship, timeliness and honest communication from start to finish."
"The whole process was very professional. The people at The Hands of Sean Perry Co. were very detailed oriented and thorough, from the bidding process to the completion of the process."
"Sean, Scott, and their crew were professional, courteous, and did very high quality work on our agreed schedule. We would be happy to work with The Hands of Sean Perry at any time in the future."
"You managed to capture the newness and freshness that blends beautifully with the old. Your attention to detail and commitment to honor the organic nature of the wood makes our new room a very special place."
"The Hands of Sean Perry Co. coordinated with area craftsmen to make our project one-of-a-kind without blowing our budget. We are glad to have chosen this company for its integrity, high quality workmanship and attentive staff."
"We are very pleased with the home renovations performed by The Hands of Sean Perry. The work was executed conscientiously and in a timely manner. The staff communicated with us daily and always kept us informed of the progress, which helped manage our expectations. They worked quietly (no loud music) and were respectful of the fact we were living/working on site throughout the process. They cleaned up impeccably each day, which was so appreciated. We would consider working with THSP again and would not hesitate to refer them to our friends."
"We believe The Hands of Sean Perry Co. offers stellar service for refining, refinishing and refurbishing an older home! Their staff are true professionals who courteously and thoroughly evaluate the remodel and its costs for the home owner. Their subcontractors are excellent and we know that if we have a future concern, the company will stand behind their work. We would highly recommend the company to our friends and neighbors!"
"I was most satisfied with the quality of The Hand's of Sean Perry Co.'s work. The craftsmanship is superior. We trust our historic homes to the hands of Sean Perry."
"We would highly, highly recommend The Hands of Sean Perry Co. In terms of working with them, we found them having expertise in working with older homes and they were excellent in communicating with us. We would definitely use them again."
"Thanks for all you do and the care that you take with each part of the project. Thanks to all who work with you, too."
"Mr. Perry has demonstrated the highest personal integrity in all of his commitments to me and my family. Without hesitation I recommend Mr. Perry and his company."
"Sean Perry is an individual of exceptionally high personal character and integrity. He is honest, fair and kind in his business dealings, and is the type of person who can be trusted to take care of his responsibilities."

Customer Ratings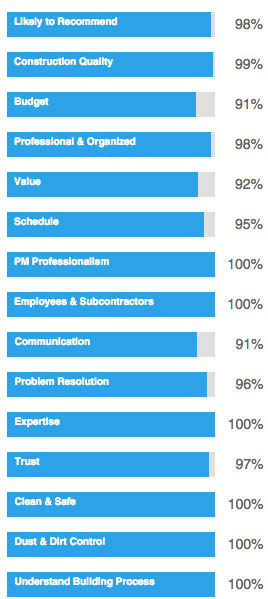 View GuildQuality Reviews
Remodeling your home? Call: 828.258.7272